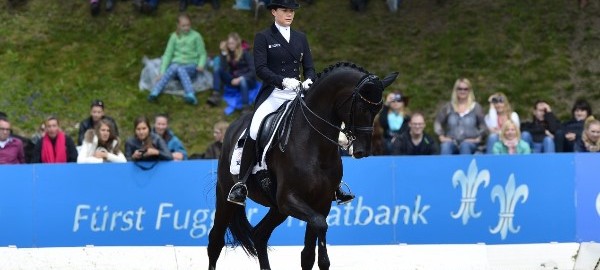 In a packed NÜRNBERGER Dressage Arena spectators were offered great dressage at the WDM Munich. The level of the performances was very high with Kristina Sprehe and Desperados FRH scoring 83.275%. Their Freestyle had power, elegance, expression and was technically strong. Kristina said afterwards, "I really liked the part with the pirouettes, they went really well." The combination also received very high notes for the artistic part. The choreography was really nice and the music fitted the horse. All judges but one, Leif Törnblad at H, had the combination in first place.
Törnblad gave second placed Steffen Peters (USA) and Legolas 92 the highest score. Steffen and his Westphalian gelding got things going for the public with the music that had some funny elements. The public cheered loudly after their Freestyle. Legolas's passage and piaffe are impressive as well as their half passes and extended exercises. "I think this was my best Freestyle ever with Legolas," Steffen said. Steffen has two Freestyles and in Munich he used the same one as in Las Vegas. The total score for these entertainers was 80.350%.
Third place went to Germany's Jessica von Bredow-Werndl and Unee BB. The combination is in good form, in April they won bronze at the World Cup Final in Las Vegas and today their Freestyle was impressive again. Unee BB is a very expressive and powerful horse. She included a special message in her Freestyle's music: one was by Martin Luther King 'I have a dream' at the beginning of the test and later on a more personal message about Respect for All Living Creatures. They scored 79.950%.
Patrik Kittel had a few little mistakes in the extended trot and extended gallop, but like always Watermill Scandic's passage and piaffe as well as his transitions were excellent and the whole Freestyle showed control. Because of the little mistakes Patrik ended up in fourth place with 78.250%. But this result was good enough for Patrik to win the NÜRNBERGER Versicherungsgruppe Best of 4 Competition. Patrik had a lead of 10% over the second placed rider, Patrick van der Meer. As the overall winner Patrik Kittel received a bonus from NÜRNBERGER Versicherungsgruppe of € 25,000.
Holland's Patrick van der Meer and his elegant, light footed Uzzo finished in fifth place with 77.325% followed by Ulla Salzgeber and Herzruf's Erbe in sixth with 74.700%. Ireland's Judy Reynolds and Vancouver K and Germany's Jenny Lang and Loverboy 26 took seventh and eighth place.
Full results here